Despite the pandemic, Humatica had a record 2020. We completed 31 international projects, 23 of which were delivered remotely. We worked closely with our loyal customers and gained new clients during the year by focusing on our unique core competence in organizational effectiveness.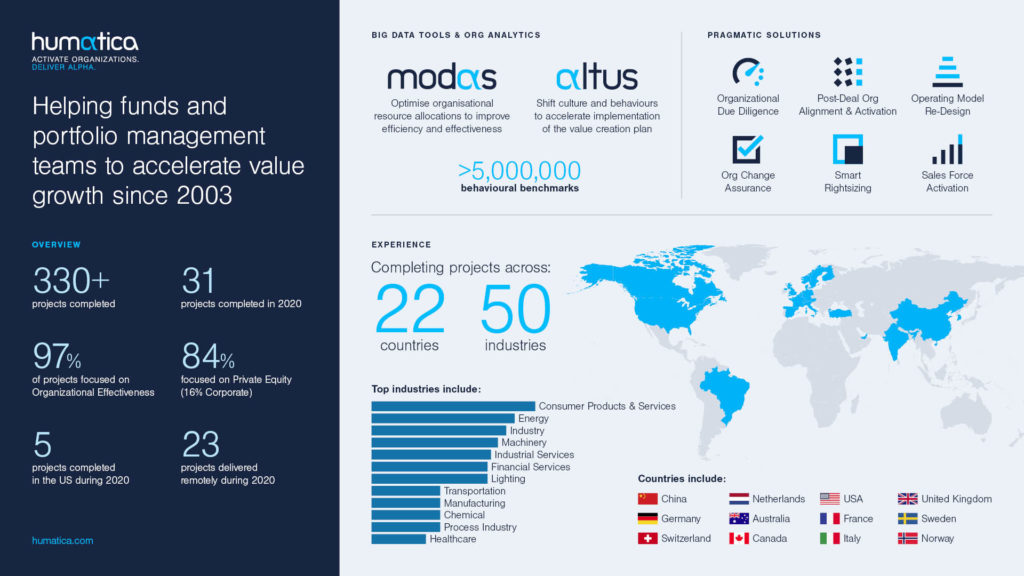 According to Managing Partner, Andros Payne, "The pandemic transformed the way people work. It prompted a re-think on organizational structures, management processes and leadership – all topics where we specialize". Humatica completed numerous operating model re-design, reorg, sales effectiveness, rightsizing and org due diligence projects during the year.
We also made significant strides in upgrading our digital tools and big-data analytics during 2020 to provide unprecedented clarity on organizational effectiveness at all levels. We are helping thousands of middle-managers to improve their leadership skills and empowering them to implement ambitious value creation plans by delivering automated org diagnostics and individualized development plans.
Since its founding in 2003, Humatica has worked tirelessly on over 330 projects with more than 30 private equity funds to realize value-growth for all buy-out stakeholders.
We would like thank our valued clients for their trust again in 2020.
To download the Humatica 2020 infographic as PDF, please click here.