Corporate culture is a wonderfully fuzzy concept that is both liked and despised by investment professionals. They know culture is critically important, but don't know how to measure and manage it. PwC's survey of private equity partners indicates that over half agree that cultural issues hamper value creation (Fig 1).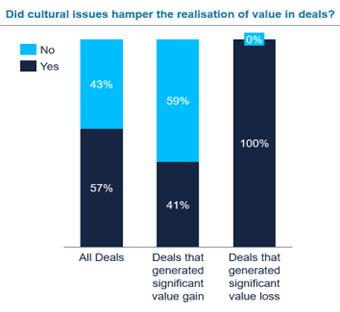 A good starting point is to define culture in the context of executing the value creation plan. For this purpose, we define culture as the set of unique and repeated organizational behaviors that drive the collective ability to make and implement decisions – that is, to adapt. If action-items agreed in a meeting are neither documented nor followed-up on, this is characteristic of a non-committal culture with a lack of feedback and accountability. These, and similar behaviors make it hard to get things done and implement the value creation plan on time. And there are hundreds of other behaviors which collectively define a firm's culture and drive its ability to implement change. Prior to Humatica, these behaviors and critical soft factors had escaped measurement and quantification. They were not codified and could therefore not be industrialized.
A portfolio company's culture will impact implementation of the investment strategy. Even with an otherwise strong management team, value growth will be delayed if the culture is incapable of translating strategy into actions by making and implementing good decisions quickly at all levels and across functions. With a poor corporate culture, managers are pushing a string. On the contrary, an empowered, entrepreneurial, and result-oriented culture can transform a mediocre business to deliver outstanding growth and profits.
Transforming culture is neither easy nor fast, but it is doable. The starting point is to measure the specific behaviors which drive the collective ability to make and implement good decisions quickly. This status-quo x-ray of the way the organization works is a catalyst for management to define specific culture changes that are needed in order to increase collective agility. It also generates employee buy-in and commitment for required changes.
Defining or augmenting a set of aspirational values and corresponding reference behaviors is another key step in the culture change process. Values provide a framework for managers and employees to calibrate their own, and other employee's behaviors. In particular, if they support trust-building, honesty and the free flow of information they will help to improve the quality of decisions and speed of implementation. Documenting, communicating, and living the values is one of leadership's most important contributions to shaping culture.
Management also needs to take actions which demonstrate and signal the agreed values and desired culture. This is particularly important for shaping the behavior of knowledge-workers, who don't respond well to a command & control leadership style. The CEO plays a uniquely important role for signaling as all eyes are on him/her. Publicly recognizing exemplary behaviors sends a powerful signal. And, sanctioning behaviors that jeopardize the values and/or a performance culture sends a clear signal on unacceptable behaviors. Leadership signaling for positive and negative outlier behaviors, drives accelerated culture change among the broad base of employees.
The best time to assess culture is immediately post-deal. This enables management to formulate and implement a behavioral change plan in time to get the benefits. By assessing the culture early, PE-sponsors understand how much time and effort are needed to shift the culture and realize value growth. Humatica's Align + Activate service, powered by the Altus behavioral benchmarking survey, are a catalyst to build consensus on cultural bottlenecks and how to resolve them.
This article is part of our series on Organizational Excellence.
Other articles in the series:
Please subscribe below for future insights.