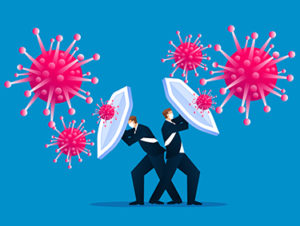 Covid-19 – Is your portfolio ready for the long haul?
As the fall-out from COVID-19 threatens to sink entire portfolios, PE sponsors and CEO's need to walk a tightrope between preserving organisational capabilities in order to resume growth in case of a rebound in 2H 2020, while at the same time preparing to survive a protracted recession or even depression if things go wrong.
Our latest HumaticaCorner explores the options for portfolio managers and CEOs.
> Link to HumaticaCorner column
Kind regards,
Andros Payne
Managing Partner
Preparing your Talent-Base for the Rebound
> Go to Taleva Website (Humatica Partner Company)
Promotions at Humatica
Meet us at two leading Private Equity Conferences
Real Deals Value Creation Conference l Munich l 24 September 2020
> Go to the Conference Website 
PEI European Operating Partners Forum l London l 5-6 October 2020
> Go to the Forum Website