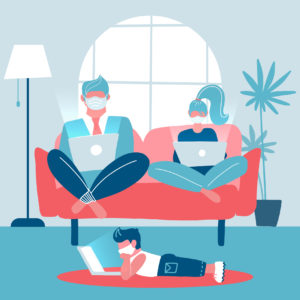 The Post-COVID Organisation (Part 3)
+40% sales effectiveness improvement following COVID
COVID-19 is forcing accelerated digitalisation of B2B sales with far-reaching consequences for Sales organisations. The rationale for on-site "sales calls" to understand customer needs and pitch products and services is in decline.
Selling is tricky. It demands building trust between buyers and sellers. Pre-COVID conventional wisdom said this could only be done through a physical visit by a sales rep – that a face-to-face meeting was essential to build personal rapport and close the sale. COVID-19 has eroded this basic assumption, and not only because of customer's proximity concerns or social distancing constraints.
Ubiquitous broadband penetration and collaboration platforms like Zoom and Teams have brought high-touch remote interaction to B2B Sales. And COVID-19 has pushed their use beyond a tipping-point. Near real-time video and audio enables remote detection of a target customer's preferred communications style instead of during an on-site visit. High bandwidth and screen resolution allow reps to pick-up the subtle cues and adjust their communications to match the customer's expectations in an instant like during a face-to-face meeting.
LinkedIn and social media platforms are also helping to close the trust gap in remote selling. A customer can assure themselves of a remote sales rep's credibility simply from their LinkedIn or Facebook profiles. Crystal, an AI-enabled software is going a step further, closing even more sensitive trust gaps which are not possible even with a face-to-face visit. Crystal integrates with LinkedIn to provide a remarkably accurate personality type indication of a target customer, with their preferred method of communication before you interact with them!
In many ways, video-call selling is more effective than on-site sales calls. During the pandemic, people noted that video calls are actually more personal and productive than face-to-face interactions in the workplace. For one, video sales calls are made from and received at places customers are most comfortable with – often their homes, and in a casual setting. This removes a subtle layer of corporate formality to provide a more personal touch for a more open sales discussion.
Demonstrating superior cumulative experience in solving the target client's exact problem is another key element of trust-based B2B sales, especially for professional service-, large project- or contract-sales. Remote selling is eliminating the distance barrier in leveraging the full cumulative expertise of the most qualified subject matter experts – regardless of where they are on the planet.
Remote B2B selling enables a 40% increase in sales productivity. Field sales reps currently spend much of their time on the road and might complete 2-3 sales calls per day. The remote rep can easily cover double that number. The optimum is an efficient and effective mix of remote and on-site sales calls, reserving face-to-face interactions for where they add most value. But, the remote sales rep will need new and different competencies.
COVID-19 has demonstrated the benefits of new ways of working for Sales organisations. Is your company ready to take advantage of them in the future?
> Link to the Real Deals HumaticaCorner column
Kind regards,
Andros Payne
Managing Partner
Meet us at two leading Private Equity Conferences
Real Deals Value Creation Conference l Munich l 24 September 2020
> Go to the Conference Website 
PEI European Operating Partners Forum l London l 5-6 October 2020
> Go to the Forum Website